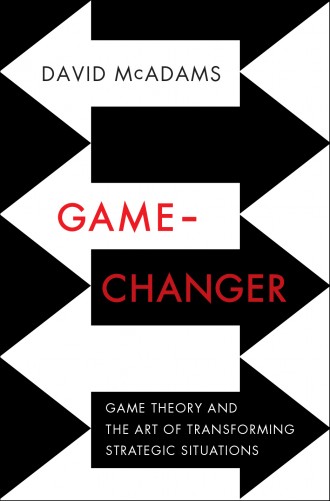 Should you buy "GAME-CHANGER"?
I'd say that's a no-brainer: Yes!  Buy "GAME-CHANGER" at your favorite local bookstore (here's mine) or online at Amazon, Barnes & Noble, iBookstore, Indiebound, or Powell's.
"a non-technical first introduction to game theory that also offers a FRESH PERSPECTIVE on how the best strategy for playing a game can often be to change the rules." — Alvin E. Roth, Stanford University, winner of the 2012 Nobel Prize in Economics
"chock-full of BOTH INSIGHT AND APPLICATIONS" — R. Preston McAfee, Google, Director of Strategic Technologies [now Chief Economist at Microsoft]
"an eye-opening treatise on how game theory can help you SOLVE PROBLEMS not only in the business world but in everyday life as well" — Booklist (review)
"ENLIGHTENING discussions about the role of regulations, cartels and collusion, retaliation and punishment, trust and ongoing relationships, and transparency of actions in shaping economic and social behavior" — Publishers' Weekly (review)
"real-life lessons presented in a readily ACCESSIBLE way" — Kirkus Reviews (starred review)
What is a "Game-Changer"?
When I proposed my book "GAME-CHANGER: Game Theory and the Art of Transforming Strategic Situations" to W.W. Norton in early 2012, the word "game-changer" was just beginning to pick up steam. Most people used the term as Merriam-Webster defines it,  to refer to someTHING  that suddenly and dramatically upsets the status quo:
game changer (noun): "a newly introduced element or factor that changes an existing situation or activity in a significant way"
For example, according to CarBuzz in January 2014, the Bugatti Veyron is "an unequivocal game-changer" because, by recently becoming the fastest-ever car in production, Bugatti unleashed a race among car manufacturers to be even faster still. More recently, the term has taken off in a sense that's closer to how I use it in the book, often capitalized as "Game Changer," to refer to someONE whose determined and decisive actions can be credited with changing the way things are.
Game Changer (noun): "a person whose actions change an existing situation or activity in a significant way"
For instance, in ABC News "This Week's Game Changer" segment, Senators Nancy Pelosi and Amy Klobuchar could be found proposing their favorite Game Changers of 2013:
Nancy Pelosi: "Edith Windsor is my Game Changer. She took her case of injustice all the way to the Supreme Court. And when she won, she changed the game in terms of marriage inequality and ending discrimination in America."

Amy Klobuchar: "My pick for Game Changer is the Pope, and it's an easy one. When he said the Catholic Church should be a home for all, I think he meant that we should be focusing on issues that bring people together, not on issues that divide people. I think our country should be doing the same."
The way that I use the term, however, there's an added dimension of awareness and intention in terms of how the "Game-Changer" in question alters their strategic environment.
Game-Changer (noun): "a person (or player) who recognizes strategic opportunities and catalyzes positive change through his/her mastery of the art of transforming strategic situations"
Consider the designers of the Bugatti Veyron. They "changed the game" of performance automobile design by unleashing a race among other makers to beat their new speed record. However, this race is bad news for Bugatti, since it means that speed-chasers will likely soon have even faster rides available from other makers. What seems likely, then, is that Bugatti designed the Veyron because that's just what they do — create awesome cars — not because they foresaw and desired to "change the game" in the way that they did.
The Art of Changing Games
Often the way forward through a challenging strategic situation is clear, but difficult. Take a sport like football, where the goal couldn't be clearer: to move an oblong leather ball across a thick white line. Game-theory mastery doesn't hurt to win football games, but what you really need is athleticism! In that sense, it made sense when ESPN asked in January 2014, "Could [Giovani] Bernard be the Bengals' game-changer?" If Bernard brings skills, or grit, or whatever it takes to win on the gridiron, then he will indeed change the game to his and the Bengals' advantage.
Other times strategic vision is required, to understand and identify what strategy will be most effective at transforming a strategic situation. Take the struggle for civil rights. The natural human instinct, when faced with injustice, is to fight. But Martin Luther King Jr and his generation of civil-rights heroes understood the power of remaining nonviolent, even (and especially) when they were suffering violent attack themselves. Non-violence was a deeply strategic act, a choice made not just for its inherent goodness but because those in the non-violence movement understood its power to change hearts and minds.
The value of game theory (as ART more than as science) is that it provides a systematic approach to gaining strategic vision, what I call "game-awareness," allowing you to diagnose strategic challenges and prescribe game-changing solutions more quickly and more effectively, even in environments where you lack deep background knowledge. (In areas where you aren't an expert, game theory helps you identify the strategically-relevant questions that you need to answer about the environment, to gain sufficient game-awareness to craft a winning plan.)
Game-awareness is rare in practice because it requires an openness that few are able (or willing) to achieve:
1. Open eyes: a keen power of observation; and the imagination to identify the inactive players, unused options, and hidden connections in games
2. Open mind: a willingness to embrace complexity and ambiguity; the creativity to brainstorm new strategic possibilities; and the humility to seek out and accept correction
3. Open heart: a willingness to empathize with others—even one's enemies and adversaries—to understand their hopes and needs and to see the game from their point of view
Of course, awareness by itself is not enough. To make a difference, successful Game-Changers must combine the openness and humility of game-awareness with the boldness and dogged determination to actually get things done. As I write in the book:
"It's natural to look at the games in our lives and assume that we chose to make them that way. But, more often than not, the opposite is true. Rather than changing the games that we play, we let those games change us. At least, that's true of most people, those who haven't yet become game-aware. They are like puppets, dancing on a string held by the laws of game theory. Freedom to chart one's own strategic destiny comes only to those game-aware enough to rise above the game, and determined enough to change the game to their own strategic advantage."
Create Your Own Game-Changer File!
Every pressing strategic problem is fair game, once you master the process of the game-theory approach to transforming strategic problems. This process has six basic steps:
Step 1: Identify a Pressing Strategic Problem
Step 2: Understand the Players, Options, and Motivations
Step 3: Brainstorm Ways to Change the Game
Step 4: Brainstorm Weaknesses of Your Initial Ideas
Step 5: Seek Out Diverse Opinions and Correction
Step 6: Change the Game!
When you put the game-theory approach into practice, you will discover that the process is not nearly as linear as this step-by-step list may suggest.  Indeed, you will typically need to circle back through several phases of ever-better understanding before you come up with any truly good idea on how to change the game.
For example, suppose that you have an idea (in Step 3) but then realize (in Step 4 or Step 5)  that implementating it could activate a hidden player who then might spoil the plan. With this new player now in mind, you would go back to Step 2, seek to understand that player as well as you can, then brainstorm new ways to change the game that leverage and/or are robust to this player's potential involvement.
Similarly, if your first attempts to change a game (in Step 6) don't go as expected, you will know that something must have been wrong with your assumptions.  You can learn from such failures, starting the process over again with a more realistic understanding of the game.
Example: Changing the Dinner-Table Game
Over twenty examples of Game-Changer Files are provided in THE FILES and in the "GAME-CHANGER" book, on all manner of important and challenging strategic challenges.  To illustrate the process that I have used when approaching all these problems, so that you can do what I have done to "change the game" yourself, consider a much simpler (and smaller) strategic problem that I faced in my own life.  If you are a parent of young children, you'll probably be able to relate.  But even if you are not, hopefully you can see the generalizability of the approach to other, weightier problems.
The strategic challenge: How do I get my kids to set the table for dinner?
The process:  To see how I used the game-theory approach to brainstorm and evaluate some initial ideas on how to change the dinner-table game, click on the "Dinner Table" image below.